I see the bad moon arising.
I see trouble on the way.
I see earthquakes and lightnin'.
I see bad times today.
Creedence Clearwater Revival – Bad Moon Rising
"Human history seems logical in afterthought but a mystery in forethought." – The Fourth Turning – Strauss & Howe
The above statement by historians William Strauss and Neil Howe is very significant as we try to make sense of the events unfolding before our very eyes in today's world. On September 17, a mere six weeks ago, a few hundred young people showed up in Zucatti Park in Lower Manhattan to protest our corrupt, broken and Wall Street manipulated economic and political system. That first night, approximately 100 protestors occupied the park and were outnumbered by the NYPD in full riot gear. The idea to Occupy Wall Street began circulating on the internet in late August. The Millennial Generation used their social networks and put their tech savvy talents to work. Before long, thousands of protestors showed up in cities across the U.S. The model for this movement was the successful demonstrations in Egypt and Tunisia, earlier in the year.
The initial reaction among mainstream media and politicians across the land was bemusement. A bunch of young hippy throwbacks were going to make a meaningless statement and then fade away. The attention span of Americans is as long as the commercial break between contestants on Dancing With the Stars. Everyone knows the Millennials aren't to be taken seriously. They are a bunch of spoiled, coddled, lazy college kids who need to get a job. But a funny thing happened during the commercial break. The kids held their ground. They didn't leave. More young people arrived. More young people began protesting in cities across the country. Middle aged people began to get involved. Even some older people joined the cause. Before long there were thousands of people getting involved. It spread to Europe, with young people occupying London and Rome. Donations and supplies began to pour in from around the world. There's something happening here, but what it is ain't exactly clear.
The six weeks since September 17 have been chaotic, venomous, confusing, and verging on deadly. Wall Street gyrated wildly with stocks falling 8% by October 3 and rebounding by 15% by October 28 and plunging again this week. The Economic Cycle Research Institute (ECRI) declared the country was headed back into recession on September 30:
"It's important to understand that recession doesn't mean a bad economy – we've had that for years now. It means an economy that keeps worsening, because it's locked into a vicious cycle. It means that the jobless rate, already above 9%, will go much higher, and the federal budget deficit, already above a trillion dollars, will soar. Here's what ECRI's recession call really says: if you think this is a bad economy, you haven't seen anything yet. And that has profound implications for both Main Street and Wall Street."
The ECRI has called the last three recessions with no instances of false alarms. Last week, the Conference Board announced the Consumer Confidence Index plummeted to two and a half year low of 39.8, last seen in March of 2009. The Dow Jones was trading at 6,500 in March 2009, some 47% below today's level. It is an interesting dichotomy between how the average American feels about the world and how the Wall Street elite feel about their Ben Bernanke sheltered world. The Consumer Confidence Index was 110 in 2007 and 140 in early 2001. We've come a long way baby.
During these past six weeks the European Union has teetered on the verge of disintegration. Non-stop negotiations, agreements, plans, declarations, special purpose vehicles, bailout funds, and lies have poured forth on a daily basis. Greece still lives – on a ventilator – as it has been brain dead for months. The sole purpose of all the public relations efforts, press conferences, summit meetings and lies has been to keep European banks, their stockholders and bondholders from accepting the consequences of their irresponsible lending to the PIIGS. Essentially, the German people have been put on the hook for losses that should have been born by the stockholders and bondholders of the biggest French, German, Belgian and English banks. The EU has put a tourniquet over a cancerous tumor. The entire world is awash in bad debt and until this debt is liquidated, we will stagger from crisis to crisis like a drunken sailor. John Hussman describes the master plan:
In effect, European leaders have announced "We have agreed to solve our debt problem, leveraging money we do not have, to create a fund, which will then borrow several times that amount, in order to buy enormous amounts of new debt that we will need to issue."
As politicians and central bankers around the world desperately try to keep their debt drenched ponzi scheme going for awhile longer, the mood darkens among the populations of developed countries around the world. I came across a quote from, of all people, Vladimir Lenin that describes how the last six weeks seemed to me:
"There are decades where nothing happens; and there are weeks where decades happen."
It seems like history is accelerating. Momentous events have been occurring regularly since 2007. Our political and financial leaders are blindsided on a daily basis by each new crisis. The majority of the American public continues to be apathetic, willfully ignorant, and constantly absorbed by their array of electronic gadgets and mindless drivel spewed at them by media conglomerates. Rather than think critically, most Americans allow left wing and right wing mainstream media to formulate their opinions for them through their propaganda and misinformation operations. Linear thinkers, who make up the majority of the political, social, media and financial elite in this country, believe the world progresses and moves ever forward. In reality, the world operates in a cyclical fashion, with generations throughout history reacting to events in a predictable manner based upon their stage in life. The reason the world has turned so chaotic, angry and fraught with danger since 2007 is because we have entered another Fourth Turning. Strauss & Howe have been able to document a fourfold cycle of generational types and recurring mood eras in American history back 500 years. They have also documented the same phenomenon in other countries.
The housing collapse, near meltdown of our financial system, revolutions in the Middle East, economic turmoil in Europe, poisoned political atmosphere in Washington DC, and most recently the Occupy Wall Street movement are part of a larger cycle. The four living generations have each entered the phases of their lives that will lead to a convulsive upheaval and destruction of the existing social order. We've entered a twenty year period of Crisis as described by Strauss & Howe:
"A CRISIS arises in response to sudden threats that previously would have been ignored or deferred, but which are now perceived as dire. Great worldly perils boil off the clutter and complexity of life, leaving behind one simple imperative: The society must prevail. This requires a solid public consensus, aggressive institutions, and personal sacrifice. People support new efforts to wield public authority, whose perceived successes soon justify more of the same. Government governs, community obstacles are removed, and laws and customs that resisted change for decades are swiftly shunted aside. A grim preoccupation with civic peril causes spiritual curiosity to decline. Public order tightens, private risk-taking abates, and crime and substance abuse decline. Families strengthen, gender distinctions widen, and child-rearing reaches a smothering degree of protection and structure. The young focus their energy on worldly achievements, leaving values in the hands of the old. Wars are fought with fury and for maximum result." - Strauss & Howe
History is Cyclical, not Linear
"There is a mysterious cycle in human events. To some generations much is given. Of other generations much is expected. This generation of Americans has a rendezvous with destiny." – Franklin Delano Roosevelt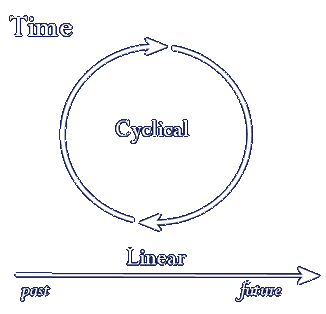 I've been trying to decipher which direction this Fourth Turning will lead, and the last six weeks has started to crystallize my thinking. I've been fascinated by the intense reactions, opinions and arguments that have taken place across the airwaves and internet regarding the true nature of the Occupy movement. Some of the reaction is based upon pure ideological grounds, with media outlets like Fox News, the Wall Street Journal, NY Post and CNBC, disparaging, ridiculing and demeaning the movement. The anti-rich tone of the protests may not sit well with the multi-billionaire owners (Rupert Murdoch, Mort Zuckerman, Roberts Family) of these mega-media corporations. The liberal media such as MSNBC, Huffington Post, and CNN have sometimes been fawning over the movement in an effort to co-opt it into liberal Tea Party for the benefit of Obama and the Democratic Party. The propaganda and misinformation coming from both these ideological camps is easy to discern for a critical thinking person. Sadly, the nation is filled with people that don't want to think. Therefore, they let their opinions be formed by talking heads on a TV screen.
These reactions were predictable. What caught my attention was the generational reaction to Occupy Wall Street. I know all the rugged individualists out there chafe at being lumped into a generational cohort, but the fact remains that groups of people born during the same time frame encounter key historical events and social trends while occupying the same phase of life. Because members of a generation are molded in lasting ways by the eras they encounter as children and young adults, they also tend to share certain common beliefs and behaviors. Aware of the experiences and traits that they share with their peers, members of a generation also tend to share a sense of common perceived membership in that generation. To deny the reality that large clusters of human beings tend to act with a herd mentality is contrary to all visible evidence. The herd mentality can be observed in the Dot-com bubble, Americans unquestioningly allowing passage of the Patriot Act, the housing bubble, the mass hysteria over the latest iSomething, Black Friday riots at retail stores to obtain the "hottest" toy or gadget, and the slaves to the latest fashions and trends as directed by the corporate media machine. The masses don't realize they are being manipulated by the few who understand the power of propaganda:
"The conscious and intelligent manipulation of the organized habits and opinions of the masses is an important element in democratic society. Those who manipulate this unseen mechanism of society constitute an invisible government which is the true ruling power of our country. …We are governed, our minds are molded, our tastes formed, our ideas suggested, largely by men we have never heard of. This is a logical result of the way in which our democratic society is organized. Vast numbers of human beings must cooperate in this manner if they are to live together as a smoothly functioning society. In almost every act of our daily lives, whether in the sphere of politics or business, in our social conduct or our ethical thinking, we are dominated by the relatively small number of persons…who understand the mental processes and social patterns of the masses. It is they who pull the wires which control the public mind." – Edward Bernays – Propaganda – 1928
The Occupy movement is being driven by the Millennial Generation. They have used their superior technological and social networking skills to organize, educate, and inspire people to their cause while befuddling and confusing the authorities. They continue to rally more young people to their fight against Wall Street and K Street tyranny. The generational lines of battle are being drawn. The Baby Boom Generation, who is at the point of maximum power in society, fears this movement. They control Wall Street, corporate America, Congress, the courts, academia and the media. They have reached their peak of influence and power, which will rapidly wane over the next fifteen years. They see the Occupy movement as a threat to their supremacy and control of the system. The cynical, alienated, pragmatic Generation X is caught between the Boomers and the Millennials in this escalating conflict. It is likely the majority of this generation will side with the Millennials, realizing the future of the country depends on them and not the elderly Boomers. To clarify, not every Boomer, Gen Xer, or Millennial will act in concert with their generational cohort. But it doesn't matter if a few cattle stray from the herd, when the herd is stampeding in one direction.
The chart below details the Strauss & Howe configuration of generations and turnings for the last two Saeculums in American history. They describe their generational theory in the following terms:
"Turnings last about 20 years and always arrive in the same order. Four of them make up the cycle of history, which is about the length of a long human life. The first turning is a High, a period of confident expansion as a new order becomes established after the old has been dismantled. Next comes an Awakening, a time of rebellion against the now-established order, when spiritual exploration becomes the norm. Then comes an Unraveling, an increasingly troubled era of strong individualism that surmounts increasingly fragmented institutions. Last comes the Fourth Turning, an era of upheaval, a Crisis in which society redefines its very nature and purpose." – Strauss & Howe
Each new generation is born approximately three years prior to the next turning. This results in Strauss & Howe having a slightly different generational grouping than government demographers.
Great Power Saeculum (82)
Missionary Generation
Prophet (Idealist)
1860–1882 (22)
High: Reconstruction/Gilded Age
Lost Generation
Nomad (Reactive)
1883–1900 (17)
Awakening: Missionary Awakening
G.I. Generation
Hero (Civic)
1901–1924 (23)
Unraveling: World War I/Prohibition
Silent Generation
Artist (Adaptive)
1925–1942 (17)
Crisis: Great Depression/World War II
Millennial Saeculum (67+)
(Baby) Boom Generation
Prophet (Idealist)
1943–1960 (17)
High: Superpower America
13th Generation
Nomad (Reactive)
1961–1981 (20)
Awakening: Consciousness Revolution
(a.k.a Generation X)
Millennial Generation(Generation Y)
Hero (Civic)
1982–2004 (22)
Unraveling: Culture Wars, Postmodernism, Digital Technology
New Silent Generation (Generation Z)
Artist (Adaptive)
2004–present (6+)
Crisis: Great Recession, War on Terror, Declining Superpower, and Globalization
There is nothing mystical about their theory. Strauss & Howe are historians who have created a framework for understanding why people act a certain way to events differently, depending on which stage of life they occupy. The theory is so logical because it is based upon the average 80 year life cycle of a human being. A human being goes through four stages during their life: childhood, young adulthood, midlife, and elderhood. During each of these stages, you will react to the same event in a very different manner. During an 80 year cycle, there will be four generations at different stages of their life. The interaction between the generations at each 20 year turning determines how history is steered through the events of that cycle. The life cycle stages can be seen in this chart:
| | | | | |
| --- | --- | --- | --- | --- |
| | | | | |
| | Prophet | Nomad | Hero | Artist |
| High | Childhood | Elderhood | Midlife | Young Adult |
| Awakening | Young Adult | Childhood | Elderhood | Midlife |
| Unraveling | Midlife | Young Adult | Childhood | Elderhood |
| Crisis | Elderhood | Midlife | Young Adult | Childhood |
| | | | | |
Strauss and Howe compare the saecular rhythm to the seasons of the year, which inevitably occur in the same order, but with slightly varying timing. Just as winter may come sooner or later, and be more or less severe in any given year, the same is true of a Fourth Turning in any given Saeculum. The theory does not predict the events which drive history, but it does predict the generational reaction to events depending upon their age. We entered the Fourth Turning Crisis in 2007 with the housing collapse and the implosion of our financial system. The configuration of elder self righteous Boomers at 60 years old, midlife pessimistic Gen Xers at 40 years old, and coming of age Millennials at 20 years old is an explosive mixture that will provide the impetus and fury to this period of catharsis and pain. Winter has arrived. There is no way to avoid it. The bitter winds have begun to blow. The first harsh front arrived in 2008 with the near meltdown of the worldwide economic system. There has been a lull in the biting gale force winds of this Crisis through the shoveling of massive amounts of newly created debt into a system already drowning in debt. The Occupy movement and the impending collapse of the European Union charade will usher in the next blizzard of pain and suffering. We hurdle towards are rendezvous with destiny.
"The 'spirit of America' comes once a saeculum, only through what the ancients called ekpyrosis, nature's fiery moment of death and discontinuity. History's periodic eras of Crisis combust the old social order and give birth to a new. A Fourth Turning is a solstice era of maximum darkness, in which the supply of social order is still falling—but the demand for order is now rising. It is the saeculum's hibernal, its time of trial. Nature exacts its fatal payment and pitilessly sorts out the survivors and the doomed. Pleasures recede, tempests hurt, pretense is exposed, and toughness rewarded—all in a season." – Strauss & Howe
Millennials Rising
Over the last six weeks I've watched as the young protestors around the country have been called: filthy hippies, losers, lazy, coddled, socialists, communists, spoiled college kids, parasites, useful idiots, and tools of the left. Most of the wrath being heaped upon these young people for exercising their Constitutional right to free speech and freedom of assembly has been from the Baby Boom Generation, who are at the peak of their power in our society. Sixty percent of the Senate is made up of Baby Boomers, with the next closest generation being the Silent Generation with twenty five percent. Over 58% of the House of Representatives is made up of Baby Boomers, with the next closest generation being Gen Xers at 27%. They occupy the executive suites of the Wall Street banks (Blankfein, Dimon, Pandit, Monihan) and the Federal Reserve (Bernanke). They make up the majority of judges, local politicians and school boards. They run the Federal government agencies. And they dominate the airwaves as the high priced mouthpieces for their corporate bosses. This Prophet generation will lead the country through the trials and tribulations of this Fourth Turning.
The disdain and contempt for these Millennial protestors flies in the face of the facts about this generation. They use drugs at a lower rate than their parents did at the same age. Teen crime rates and teen pregnancies have declined. They will have the highest level of college education in U.S. history. They were protected during their youth as organized sports taught them teamwork. They are the most technologically savvy generation in history. They volunteer at a higher level than previous generations. They have been more upbeat and engaged than their predecessors (Gen X). And they are much closer to their parents than Boomers were at the same age. They reject the negativism and cynicism of their parents and believe positive change is possible in our society. They have shown respect for authority up until the last six weeks. They were primed to be led by Boomers that could articulate a positive vision of the future based on reality and a better tomorrow. They were ready to make sacrifices in order to create a brighter future. But a funny thing happened. The Boomer generation failed to deliver on their part of the bargain.
Prior Hero Generation Americans had braved the winter at Valley Forge and stormed the beaches of Normandy as Prophet leaders like Ben Franklin and Franklin Roosevelt provided inspirational guidance and the vision of a better tomorrow. Strauss & Howe accurately assessed the Millennial Generation in their book Millennials Rising: The Next Great Generation, published in 2000 when the 1st Millennials were graduating high school:
"As a group, Millennials are unlike any other youth generation in living memory. They are more numerous, more affluent, better educated, and more ethnically diverse. More important, they are beginning to manifest a wide array of positive social habits that older Americans no longer associate with youth, including a new focus on teamwork, achievement, modesty and good conduct. Only a few years from now, this can-do youth revolution will overwhelm the cynics and pessimists … will entirely recast the image of youth from downbeat and alienated to upbeat and engaged — with potentially seismic consequences for America." - Strauss & Howe
The youth of America listened to their parents and stayed in school. They've racked up over $1 trillion in student loan debt getting college educations. Meanwhile, our Baby Boomer leadership had an opportunity to address the country's unsustainable fiscal path by accepting the consequences of a thirty year debt binge and liquidating the banks that took extreme risks with extreme leverage. An orderly liquidation (aka Washington Mutual) would have punished the stockholders, bondholders and management of the Wall Street banks, while leaving the depositors whole and purging the system of debt that can never be paid off. Our politicians could have ended our wars of choice in the Middle East and cut our war spending by hundreds of billions without sacrificing one iota of safety for the American people. The political leadership could have put the country on a deficit reduction path that would have insured the long-term viability of our republic.
Instead of doing the right thing, our Baby Boomer leaders did the exact opposite of the right thing. They held the American taxpayer hostage and absconded with trillions of their tax dollars and handed it over to the same Wall Street banks that had run the largest fraud scheme in world history and blew up the worldwide financial system. The Boomer Chairman of the Federal Reserve decided to not only save the Wall Street banks but to purposefully try to pump up the stock market, while destroying the lives of savers and senior citizens with his zero interest rate policy. His policies have led to a surge in energy and food prices and contributed to revolutions in the Middle East. The Wall Street banks have used the accounting gimmick of relieving loan loss reserves to create fake profits over the last two years. Wall Street celebrated by paying themselves $60 billion in bonuses between 2008 and 2010. The poster boys for the .1% Jamie Dimon and Lloyd Blankfein "earned" $23 million and $19 million respectively in 2010.
The politicians borrowed trillions from future unborn generations to inflict a Keynesian nightmare of solutions on the American economy that included: an $800 billion porkulus program, $22 billion pissed down the toilet on a homebuyer tax credit as home prices are now lower, $3 billion for Cash for Clunkers that cost $24,000 per car sold, loan modification schemes, tax credits for windows, doors and appliances, and payroll tax cuts. The result of all the Federal Reserve and politician "solutions" has been to increase the National Debt by $5.3 trillion in three years, a 55% increase. It took the country over 200 years to accumulate the first $5.3 trillion in debt. Everything done thus far has benefitted only the top 1%. The real unemployment rate is 23%. The real inflation rate is between 5% and 10%. The economy is headed back into recession. But at least the top 1% are doing well, as the stock market has risen 84% from its 2009 lows. Somehow, the oligarchy that runs this country is taken aback by the protests growing increasingly contentious across the country. It is not a surprise to those who understand the cyclical nature of history and the darkening mood in this country, which has been deepening since the Tea Party protests of 2009.
Hope You Are Quite Prepared To Die
Hope you got your things together.
Hope you are quite prepared to die.
Looks like we're in for nasty weather.
One eye is taken for an eye.
Creedence Clearwater Revival – Bad Moon Rising
It seems the young people in this country have realized they have no future when the system is run for the benefit of an oligarchy consisting of Wall Street banks, mega-corporations, media conglomerates, and puppet politicians in Washington D.C. These people will stop at nothing to retain their wealth and power. Not only do they want to retain it, they are actively trying to increase it. They have achieved their goal beyond all expectations, and are still able to convince a large portion of the population through their propaganda machine they deserve every penny. The chasm between the "Haves" and "Have Nots" has never been greater in U.S. history. The truth is that Americans have always admired entrepreneurs like Steve Jobs and Bill Gates who created businesses, created jobs, and ended up with vast wealth. But, that is not the wealth protestors on Wall Street and across the country are angry about. They are angry at the hyper-concentration of wealth in the hands of men that have rigged the system in their favor through bribery (lobbying & contributions), fraud (no-doc loans & AAA rated toxic derivatives), accounting schemes (special purpose vehicles & suspending mark to market) and holding the American middle class hostage (TARP & zero interest rates). When the 400 wealthiest Americans own more than the "lower" 150 million Americans put together, you have a system that is badly broken.
Do the Millennials have a right to be angry? The table below shows how the economic solutions of the oligarchy have worked out for the youth of our country. There are 19 million young people between the ages of 18 and 29 that are not working. Some are still in college, but most are not. That is a lot of potential Occupiers.
| | |
| --- | --- |
| | |
| Age Group | % not employed |
| 18 to 19 | 65% |
| 20 to 24 | 40% |
| 25 to 29 | 27% |
| | |
After observing the reactions to the OWS movement over the last few weeks, I'm more convinced than ever that different generations view the same event through the prism of their own life experiences, beliefs, prejudices, and biases. I've found the Baby Boomers have generally been doubtful of the protestors' motives, condescending towards their intelligence, scornful about their appearance, and derogatory regarding their flaunting of authority. This is fascinating considering that Boomers love to reminisce about their glory days protesting the Vietnam War. The Boomer generation was at this same age configuration in 1970. Their GI Generation parents probably had the same opinions about the long haired, drug using, sex crazed youthful Boomers in 1970. Now the Boomers are the establishment and they don't like seeing their authority challenged by these na