Tom Mullen
Tom Mullen is a writer, musician, and self-employed business consultant. In January 2009, he published his first book, A Return to Common Sense: Reawakening Liberty in the Inhabitants of America. Tom was the opening speaker at the Revolution March in Washington, D.C. on July 12, 2008 (keynote speaker Ron Paul). In 2007, he released his first solo CD, A Glimpse of the Ether, containing 13 original compositions. Tom's style has been described as "Powerpop with a hint of modern rock."
Tom is originally a native of Buffalo, NY and graduate of Canisius College. He earned a Master's Degree in English from State University of New York College at Buffalo. He now resides with his family in Tampa, FL. For more information, visit Tom's website at www.tommullen.net.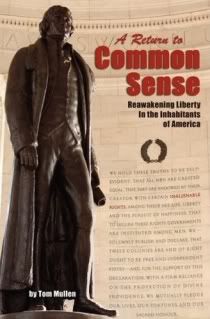 Subscribe
Subscribe to our e-mail newsletter to receive updates.