By Author "John McCardell"
For years, Campaign for Liberty has fought government spying on American citizens, the overreach of government agencies like the NSA that facilitates the spying, and the lies that follow (see former Director of National Intelligence Director [...]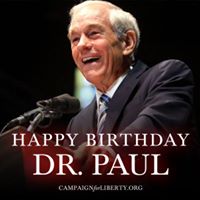 Happy birthday to Campaign for Liberty Chairman Ron Paul! For over 40 years, Ron Paul has been fighting for our liberty. Click here to sign a card to Dr. Paul and tell him "thank you."